How Much Does a Wedding in Italy Cost?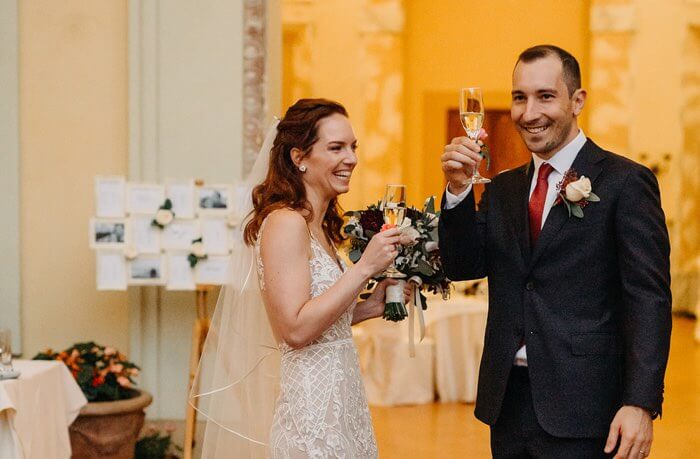 Is there a more romantic place to get married than Italy?!
Planning a wedding abroad can be intimidating for various reasons, especially when it comes to cost. You start searching for venues, you ask for a quotation, they send you a price back, now what? How do you know if it's a good price? What about food, drinks, flowers, and a photographer? It can be difficult for any engaged couple, let alone when you want to get married in a foreign country.
We can't promise a stress-free wedding. (What wedding is?) But knowing what to expect will help you prepare well to have a more budget-friendly, and certainly less stressful, experience. Here are a few points to consider when planning a wedding in Italy:
Plan ahead. Some venues get booked over 12 months in advance.
Timing. When setting a date and booking a venue consider all the requirements and timing in order to obtain all the necessary documents.
Guests. People traveling will need a little bit extra time to arrange their trip. It's a good idea to give them at least 6 months notice.
Additional Info
If you're also looking for guidance on the technical process for getting married in Italy and all the documents that are required, follow our

Complete Guide

.
Average costs of a wedding in Italy
Other costs to consider:
Music – a DJ will cost around $250, while live music will start at around $500.
Make-up/Hair – a good hair stylist will cost around $200, while make-up is around $100.
Offering – if getting married in church, normally you donate around $200.
Party Favors – not necessary, but they can run around $7-8/guest.
Depending on the amount of guests, the overall cost of a wedding in Italy (including invitations, dress/suit, wedding bands, wedding night and thank you cards) can vary between $10,000 – $35,000.
Our Experience
For our wedding we started planning 10 months before and since none of us was living in Italy at the time, we heavily relied on the information we found online. A great resource for wedding is the website Matrimonio.com (it is essentially the Italian version of WeddingWire). You can pretty much plan your whole wedding on it and you can reach out to providers and ask for more informations. We tried to simplify everything as much as possible and invested a lot of time to reduce the overall cost. One thing we wanted to make sure was that our guests would not be intimidated by the idea of traveling to Italy on their own to attend our wedding. So beside giving them ample time to plan their trip and request time off work, we also created this little guide for them to use and feel guided in their journey as well! Needless to say, it was a success - Click here to see our guide! Finally, here is a rough breakdown of what we spent for our special day:
Invitations - $140
Bouquet - $110
Flower Decorations - $450
Photographer - $950
Make-up/Hair - $250
Music - $550
Reception dinner - $90/guest (65 guests) - $5,850
Gelato Cart (instead of a wedding cake) - $550
After-party open bar - $500
Party Favors - $250
Offering Officiant - $150
Travel costs (includes flights, hotels, transportation) - $2,500
TOTAL - $12,250
Using a Wedding Planner Service
If planning every single aspect of your wedding from abroad seems too daunting, you might want to consider relying on the expertise and assistance of a wedding planner. There are numerous wedding planners available that will take care of every single aspect of the wedding. Some sell complete packages based on the level of service you need and they will guide you through the entire process. Of course this comes at a premium, so if cost is not an issue, ditch the stress and consider using a wedding planner!
Need some help?
Are you set on getting married in Italy? Since we want everyone to have a great time in Italy, we can especially help if you need some inspiration or you want our advice on something.
We can assist you in creating a brochure for your guests to guide them and show them all of the wonderful things the territory near your wedding can offer. Depending on what you would like included, prices start from $45 (check out the brochure we made for our wedding – here).
Also, for more information on getting married in Italy – check out our Complete Guide – we go over the technical process for getting married in Italy and all the documents that are required. We also describe the process to navigate through the legalization steps needed to make the Italian wedding legally recognized in your home country.
Other Resources
Need more inspiration or help with the planning? Check out our Cost Tracker and our invitation templates:
Want to use our invitation designs? We can customize them for you for a small fee. Contact us!
If you found this article helpful, feel free to share the love and hit like or leave us a message below!
Ciao ciao!

Need someone to run your ideas by? Have an idea for an itinerary but don't know how to make it fit together or what the best solution is? Or do you simply want a curated food & wine adventure?
Contact Us!