Getting Married in Italy - The Complete Guide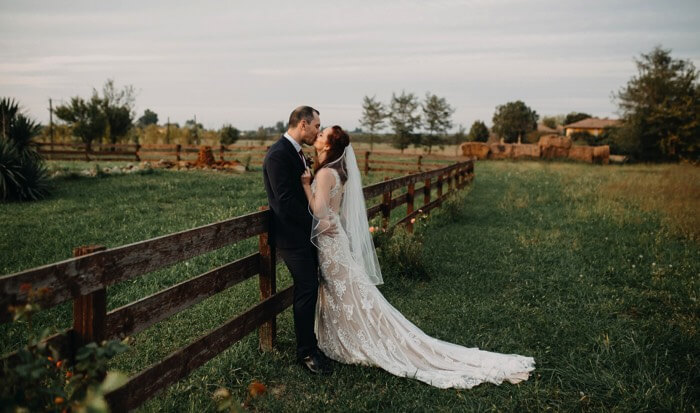 So… you want to get married in Italy, but have no idea where to start?
First, congratulations! Second, we can help you with that!
In this guide, we are going to focus mainly on the technical process for getting married in Italy and all the documents that are required. We will also describe the process to navigate through the legalization steps needed to make the Italian wedding legally recognized in your home country. Additionally, we are going to include our own personal experience and describe the steps we went through in making our dream come true.
Depending on your situation it might end up being a simple process or it might need a bit extra work.
Our Experience
In October 2019, my wife and I were married in a beautiful countryside villa near Bologna, Italy. The villa, built by Count Vincenzo Ferdinando Ranuzzi Cospi in the 18th century, was a vibrant gathering place where they kept meetings and concerts, as well as theatrical performances and symposia, making it a highly frequented center of entertainment and intellectuality for the local nobility. Sounds like your type of wedding? Then follow this guide to make your own wedding in Italy a reality!
Note
Although we put a lot of effort in ensuring the information provided is correct and accurate, please do not take it as legal advice. We strongly advise you to consult the Italian Embassy or Consulate for firsthand information on the legal requirements for getting married in Italy, since these might change from time to time.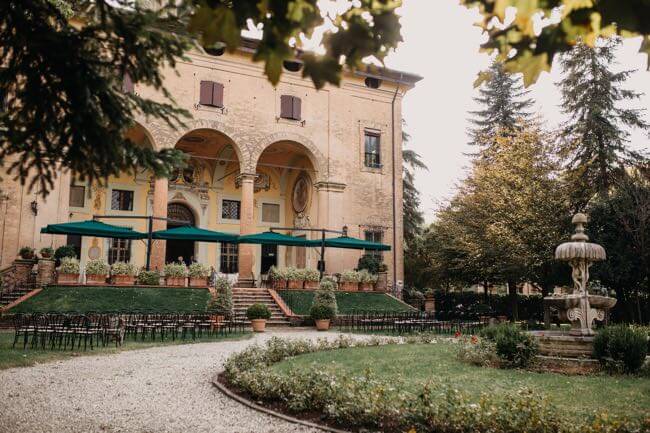 Where to start:
Planning a wedding abroad can be intimidating for various reasons but having all the steps laid out before you can make the whole process a lot easier and certainly less stressful. Knowing what to expect will make your experience so much better. Here are a few notes on what to expect when planning a wedding in Italy:
Plan ahead – Make sure you have ample time to request and obtain all necessary documents.
Understand your timeline – Before even setting a date, understand all the requirements and how long each step is going to take to complete.
Paperwork – There will be extra documents necessary compared to a regular wedding in your home country, some of which you have likely never heard of before.
Language – While knowing Italian is not a requirement, it sure does help. If you don't speak the language, let someone who knows Italian assist you with some of the tasks.
Time in Italy – You will be required to visit various offices in Italy, so you should plan to arrive at least 2 weeks before the wedding date to make sure you have enough time.
Additional Info
Also interested in how much a wedding in Italy costs? Check out typical expenses

here

.
Your Situation:
Before we jump to the different steps required, it is important to understand your situation and evaluate the options available to you. Generally speaking there are a few different scenarios to consider that can lead to different steps, some easier, some more complex. For example, your country of origin or whether you want a church union vs. a civil union.
Every country has different laws and regulations, so creating a guide that fits all scenarios would be impossible and a disservice to our readers. For the purpose of this guide we will provide guidance on the processes required for American citizens or readers living in the US.
If you live in another country, the process might be different.
Requirements for US Citizens
For US citizen there are essentially three necessary steps to follow to get married in Italy:
Before arriving to Italy
the Atto Notorio
After arriving to Italy
the Nulla Osta
the Marriage Certificate
Step 1 – The Atto Notorio
First thing to do is to find and contact the Italian Consulate that has jurisdiction over your state (there are only 9 Italian Consulates in the US and each one has jurisdiction over certain states). The consulate will be a valuable resource as they can guide you through the process of obtaining the "Atto Notorio." The Atto Notorio is a declaration, in front of the Italian Consulate, saying that you and your partner are who you claim to be and that you are allowed to get married in Italy. To obtain this declaration you will be required to appear before the consulate with your partner, two witnesses (a witness may be of any nationality, but must be over 18, with a current photo ID), and a list of documents.
Normally the couple will need the following documents (although they might vary in some instances):
Copy of your passport
Copy of your partner's passport
Copies of your two witnesses' IDs
Certified copy of your birth certificate (long form, explained below)
Certified copy of your partner's birth certificate (long form, explained below)
Evidence of the termination of previous marriages, if any (e.g. divorce decree, annulment decree or death certificate of former spouse)
The birth certificates and evidence of the termination of previous marriages, if any, will need to be translated into Italian (the consulate should be able to refer you to a translator). Finally, the certified copies and certified translations will also need to be accompanied by an "Apostille", which is a seal that certifies the legality of the attached document and ensures its recognition throughout the world (in accordance with The Hague Convention on the legalization of foreign public documents).
In the United States, you can get an Apostille through the Secretary of State in the state where the document was issued and the cost ranges from $5-$15 per document.
Note
This process can also be done before at any Tribunale Ordinario in Italy. It requires many revenue stamps (marche da bollo), two witnesses over 18 years of age and an interpreter. You, the witnesses, and the interpreter must show proof of recent entry into Italy, i.e. plane ticket or visa, or a Permit to Stay (permesso di soggiorno). So, yeah… we do not recommend this for obvious reasons!
Our Experience
Being an Italian citizen living in the US, the process was pretty easy for me, however, my wife, an American citizen, had to collect all the documents, have them translated and apostilled. First thing we did was request an official copy of her birth certificate from the county where she was born. Note that if you don't have the original birth certificate, it is important to request the long form, as there are two versions and the short version does not include the names of both parents, which are required by the consulate). We paid $35 for my wife's copy. Also, because my wife was divorced she had to get a copy of her divorce decree. If you don't have it on hand, the County Legal Records Office can provide you a copy of the divorce decree for free or for a small fee. We asked for a copy with an Apostille and they took care of that on the same day. Once we received the birth certificate and the divorce decree we sent copies to the translator. After a week or so we received the translated version. Each document cost us $25 to translate. Lastly, we sent the official copy of her birth certificate to the Secretary of State (in the state where she was born) to get the Apostille. In the US, it is important to send the document to the appropriate state office. This also took about a week and cost us $10. Finally, with all the documents properly translated and stamped we contacted the Italian Consulate once again to set up an appointment for the Atto Notorio. ATTENTION: Your wedding date must be within 90 days of receiving the Atto Notorio! Our wedding was on October 5th, so we started gathering all the necessary documents in April and made an appointment for August. We then showed up to the Italian Consulate with our two witnesses (my wife's parents) and presented all our documents. They made us swear an oath in front of the consulate and at the end we received two copies of the Atto Notorio, one for me and one for my wife. The cost was around $190.
Once you have the Atto Notorio, Step 1 is complete!
Step 2 – The Nulla Osta
Once you have arrived in Italy, the next document that is required by Italian Law is the Nulla Osta or Affidavit, which is essentially another declaration that states that there are no impediments and that you can legally marry under Italian and US law. You can obtain the Nulla Osta from any U.S. Embassy or Consulate in Italy and to do so you will need to make an appointment. We recommend making an appointment at least a month in advance to be safe (these appointments are generally only on one or two specific weekdays, so plan ahead).
Similarly to the Atto Notorio, you will make an oath in front of an American Official and you will then receive two copies: one for you and one for your partner. Also keep in mind that the Nulla Osta is valid for three months and costs approximately 50 Euros per person.
Once you have the two Nulla Osta copies, you will need to have them stamped by the Legalization Office of any Prefettura, the provincial Italian government agency (each province capital has one). Before doing so, you will need to purchase two "Marche da Bollo" or revenue stamps from any local Tabacchi shop (tobacco stores). Each document will need a 16 Euro revenue stamp. In Italian you can simply ask: "Vorrei due Marche da Bollo, per favore" (I would like two revenue stamps, please). Do not place the stamps on the documents yet, they will do that at the Prefettura.
When you reach the Prefettura look for the office that handles legal documents – Ufficio Legalizzazione. In the office there is a pretty good chance that very few will speak English. Not a problem, just ask for the Ufficio Legalizzazione and once there show them the two Nulla Osta, the Marche da Bollo, and say you are getting married in Italy and need their signature: "Scusi, siamo qui per ottenere la firma sul Nulla Osta. Ci sposiamo in Italia. Grazie" (Excuse me, we are here to obtain the signature on the Nulla Osta.  We are getting married in Italy. Thank you).  They'll know what to do.
Our Experience
For our wedding we went to the American Consulate in Florence since it was the closest one to our venue. We arrived in Italy a few days before our appointment at the consulate. On the day of our appointment we went to Florence and my wife showed up at the consulate where there was a long line. All consulates and embassies are highly secured areas and you have to go through security before entering the premises. Make sure you only bring the necessary documents as sometimes you are not allowed to bring large bags inside. She checked in at the desk and then explained why she was there and that she needed to obtain the Nulla Osta document. Not too long after she was called in and made the sworn statement to the official. She received the Nulla Osta document and paid the fee. I waited for her outside and we then went to the nearest Tabaccaio and bought the Marca da Bollo (make sure you get one for each Nulla Osta) and then headed to the Prefettura. No appointment is needed at the Prefettura, you simply walk in and ask for the Ufficio Legalizzazione and then wait to be called. The process was simple, they looked over the document, attached another page to it, placed the stamp and signed. It didn't take more 20 minutes and we were done.
This was a long step but with the authorized Nulla Osta in your hand you are now done with Step 2!
Step 3 – The Marriage Certificate
The last step is to declare your intent to marry and the next steps will depend on your choice of a Civil Union or a Religious Union.
Civil Union
If you decide to have a Civil Union, you will need to head to the City Hall in the town/city where you are getting married. Here, in front of the Ufficiale di Stato Civile (Civil Registrar), you must present all the precious documents you have worked so hard to obtain (Atto Notorio, Nulla Osta, along with the Italian-translated and apostilled birth certificates and divorce documents) and declare your intent to get married, which results in the "Declaration of Intention to Marry."
The Civil Registrar will then look over all of the documents and will keep all the paperwork presented to them. The declaration usually takes place 2 or 3 days prior to the wedding and banns are posted only after the "Declaration of Intention to Marry" has been filed.
Note
If you or your partner are Italian citizens, Civil Banns must be posted at the Town Hall for two consecutive weeks including two Sundays before the marriage can take place. However, banns are automatically waived if neither party to the marriage is an Italian citizen or a resident of Italy.
The civil ceremony is usually performed by the Mayor or one of his deputies. You will need two witnesses and one interpreter to translate your ceremony from Italian into English. The translator can be anybody who has a good command of both English and Italian.
There is a formal procedure that takes place at Italian civil wedding ceremonies. However, some officials are willing to work with you to customize the ceremony, this is something you need to discuss and agree with them beforehand.
Note
By law, all civil wedding ceremonies in Italy can only be held in a town hall. In a few cases, certain venues have been given special permission to host civil ceremonies as well. So if your dream is to get married in a church, you will need to opt for a Religious Union instead. Should the venue you have picked not have permission to host a civil ceremony, you have the option to get legally married by Civil union in a town hall and then have a Symbolic ceremony elsewhere. This solution will allow you to have the ceremony anywhere you'd like and customize it as you please!
At the end of the ceremony you and the two witnesses will sign the legal marriage license, and after the ceremony you will receive an envelope containing the official marriage certificate authorized by the Mayor or depute.
The final step is to go back to the Prefettura (doesn't have to be same one you visited for the Nulla Osta), present the marriage certificate, and say that you would like to receive an Apostille for the marriage certificate.
Note
This step is not actually required, but it is highly recommended as the Apostille is what will be officially recognized in the United States and it will contain a translated copy of the marriage certificate so that officials in the US can understand it.
Our Experience
Before the wedding date, we presented all of our documents to the Civil Registrar and declared our intent to marry. On the day of the wedding, we had a beautiful ceremony and obtained the official marriage certificate from the mayor right after the ceremony. A few days later we went to the Prefettura in Bologna to request the Apostille for our marriage certificate, which took a few days to be completed, so plan for it. That was it – we were happily married and had the official paperwork we needed to register our union in the US as well!
Religious Union
A Religious Union adds another layer of complexity to the whole process as you need to also receive approval from the Italian Religious Authorities before getting married. If you decide to have a Religious Union, you must provide some additional documents depending on your religion.
Our Experience
Because of the added complexity and the fact that my wife is not Catholic, we opted for a Civil Union only, so we do not have direct experience other than what I know by being Italian and having been raised in Italy. Even though we would have liked to get married in church, the process required too much time and effort, both of which we didn't have at the time. So rather than delaying our wedding, we decided not to pursue this option.
Roman Catholic Wedding
In the case of a Roman Catholic ceremony performed by a Roman Catholic priest, you have the option of having a Civil Union prior to the Religious one or just the Religious one, as the priest can register the marriage with the civil authorities.
In case you decide to have the Civil Union prior the Religious Ceremony, you should provide the original civil documents (the civil wedding certificate which states that you are legally married) to the Italian priest.
Note
The civil wedding certificate never expires.
On the other hand, if you wish to have the Religious ceremony legally recognized by the Italian authorities you must also provide all of the civil paperwork described in Steps 1 & 2.
Additional Documents Required by the Catholic Church
The Catholic Church requires the following documents from each person in order to approve your wedding request:
Certificate of Baptism
First Communion
Confirmation
All the above documents need to be stamped by your local Bishop's office (if your local Parish is not able to provide you the originals, ask for some copies that have necessary to be sealed by your local Bishop).
Declaration (formal letter)
Written by your Priest/Pastoral Advisor in which they state that both bride and the groom are active in the Catholic Church and that they intend seriously to have a religious blessing in Italy (specifying the name of the church you selected in Italy and your wedding date). This letter represents a permission released by you Priest and required by the Italian Curia which testify that your local Priest knows you and allows your wedding in Italy. Since this is an official and formal letter, it has to be written in the letterhead paper of your Parish. The letter needs to also state that you have fulfilled all the Pre Cana Classes. The Certificate of the Pre-Marital classes (if a certificate was done) should be included.
This is a letter from the Bishop of your Parish (written on the letterhead of your Bishop's office). This is one of the most important documents required by the Italian religious Authorities.
It must specify that you have No Impediment to get married in the Italian Church you selected (specify the name) at the date requested. This letter certifies that the religious authorities over your local priest have approved your wedding in Italy.
Original Prenuptial Enquiry Form
The Prenuptial Enquiry Form is a prenuptial investigation provided by the Archdiocese of your (the Italian Curia must have a proof that your wedding has been approved by the higher member of the Catholic Church in your country), which includes your personal details and some general religious data. This questionnaire has to be filled with you together with your Priest. The document has to be issued by your Parish (written on a formal letterhead). It has to be signed and stamped with the Church seals by your local Bishop's office (not by your Priest).
Divorce
In case you or your partner have been divorced, the Italian Catholic Church will not allow you to re-marry in a Church, unless the Rota (the only Institution legally able to officially annull marriages) had previously annulled your wedding.
If you or your partner have been previously civilly divorced and want to get married again in the Church, you are required to submit a civil reconciliation certificate.
Permission of Mixed Religion
If you or your partner are not Catholic you are still allowed to get married in church, however, you must provide this additional document which testify that your wedding can be performed by the Italian religious authorities. This certificate is usually issued by the local bishop in your country, but we suggest asking for more information to your local Priest as it is not always guaranteed. The 'Permission of mixed religion' needs to be sealed or stamped by the Bishop's Parish office.
Documents Translation
Most of Italian Churches are able to directly translate your documents. In some instances, this service may not be offered, so it will be up to you to provide an acceptable translation.
Approval Timeline
In order to be accepted, the documents must not be done more than 3 months in advance or they will expire (this is not the case for the certificate of baptism, holy communion and confirmation, which are issued when you received these sacraments).
Note
The Italian Religious Authorities require at least 2 months to review and approve the paperwork. So you should plan to have submit them shortly after you receive them.
Once you have all the required documents you can send all them directly to the Italian Curia, for them to be processed.
Usually 1-2 days prior to the wedding you will meet with the priest to go over the next steps and prepare for the ceremony.
Note
In order to complete the Catholic marriage requirements it is fundamental to have the original documents with you. The above are the general religious procedures, however, note that these can vary from one diocese to another and therefore you must verify before proceeding. The Italian priest or Curia has the ultimate say on granting official permission for the catholic ceremony to move forward after checking the paperwork, therefore please be sure to receive approval before making any plans.
Non-Roman Catholic Wedding
If neither you or your partner are Catholic, you can reach out to other Religious Authorities in Italy and request permission to have a Religious Union. We are not able to provide any information on the procedures and requirements of non-Catholic authorities. However, we can say that due to the special Italian requirements applicable to marriages performed by non-Roman Catholic ministers, it is usually required to have the civil ceremony prior to performing the religious ceremony to ensure the legality of the marriage to (this is not always the case, and can depend on the wedding destination).
Also, for more information on getting married in Italy – check out our Italian Wedding Cost Guide – we go over the main costs for an Italian wedding and what to expect cost-wise.
Other Resources
Need more inspiration or help with the planning? Check out our Cost Tracker and our invitation templates:
Want to use our invitation designs? We can customize them for you for a small fee. Contact us!
If you found this article helpful, feel free to share the love and hit like or leave us a message below!
Ciao ciao!

Need someone to run your ideas by? Have an idea for an itinerary but don't know how to make it fit together or what the best solution is? Or do you simply want a curated food & wine adventure?
Contact Us!